It's time once again for my favorite sporting event of the year, the NCAA Basketball Tournament.  And my favorite part of that (besides all the drinking and gambling) is making my picks based on the badassity of the mascots.
An explanation and history of this tradition can be found preceding last year's badass picks here.  But here's the short version of what makes a mascot badass:
Who wins in a fight and a "cool" factor are important, but not determinative.
Creativity helps.  Generic mascots that every other school shares (wildcats, eagles) diminishes their otherwise inherent badassity.
In close cases, the school's actual logo, the physical costumed manifestation of their mascot, and the history behind the nickname are all fair game.
Arguing with me about my badassity decisions is futile this year, but fun anyway, and might change my mind for next year.  I dare you.  That's why I keep my comments enabled.
Based on the season so far, I think the only thing anyone can predict with confidence is that the outcome of these games is going to be totally unpredictable.  I think we're in for a lot of upsets, which makes this method as good as any other for picking winners.  And so without further ado, here are my picks for the first round:
Midwest
(16) Alabama State Hornets over the (16) Morehead State Eagles
The first game is the weird little 65th team play-in to see who gets the honor of being whupped up on by the top seed in the nation.  Is this an opportunity, or a cruelty?
Either way, I have to go with hornets here.  Eagles are pretty badass, but I can tell you which one makes me tremble in my boots and which makes me just want to say, "Oh, look – an eagle."  Besides, there are 4 eagle teams in the tournament this year, and that just gets old.
(16) Alabama State Hornets over the (1) Louisville Cardinals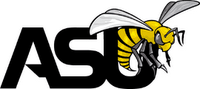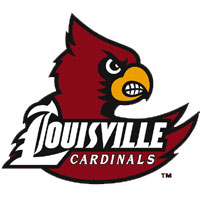 Hey, if a hornet is more badass than an eagle, it sure as hell beats out a cardinal.  Is there anything at all badass about a little songbird, even if the university's logo has it scowling?  What's he gonna do – wake me up in the morning?
(9) Siena Saints over the (8) Ohio State Buckeyes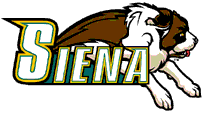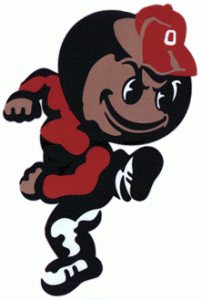 The Saints are a very interesting mascot.  They use a St. Bernard, which is a much more badass dog than one might consider it to be at first glance.  It's huge, for one, and then you think about all that booze my childhood cartoons taught me it carries around with it in order to revive people freezing in the snow.  They don't look all that threatening, but they also don't look like they'd take any crap from anyone.
But this is an easy one in this round, since the Ohio State mascot is a frickin' nut.  Man, the Big Ten has some weak mascots…
(5) Utah Utes over the (12) Arizona Wildcats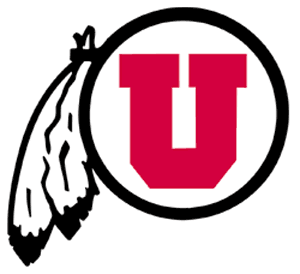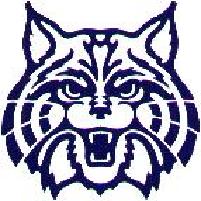 This was a hard one.  I went with the idea that the Utes were an Indian tribe badassedly surviving in the salty Utah desert, which beats the small and overused Wildcat.  Then I found out that the sideline mascot is now a red tailed hawk, which takes them down a notch or two.  I guess unless you're the Seminoles, tribal costumes are a big no-no.  This is pretty much a coin toss, but I'm going to go with the desert nomads here.
(4) Wake Forest Demon Deacons over the (13) Cleveland State Vikings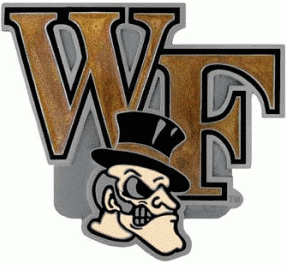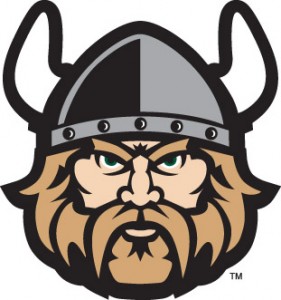 I made this pick because I'm tired of colleges demeaning my heritage by dressing it up in a goofy costume and using it to sell tickets to sporting events!
Wait.  That's not right at all.  Vikings are way badass.  I'm proud that plenty of sports teams agree, and wrap themselves in my ancestral badassity in order to inspire their fans and intimidate their opponents!
Unfortunately, the idea of a Demon Deacon is more badass.  Devils and their wicked brethren do well in the Badass Brackets, because any time you're wielding the dark and evil power of the underworld, you've taken the badass to the next level.  This is an early clash of the titans, but the victory must go to Wake Forest.
(11) Dayton Flyers over the (6) West Virginia Mountaineers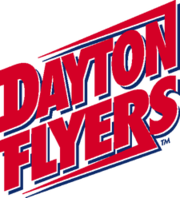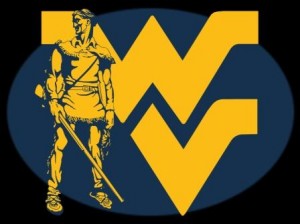 When I first looked up Dayton's mascot to see what it was, I was unimpressed.  But their mascot is a goggled bi-plane pilot, reminiscent of the Red Baron.  The nickname hearkens back to local boys-made-good Orville and Wilbur Wright.  From the earliest days, it took some real badassity to climb into a canvass wrapped lawnmower, get airborne, and then chase enemies around with machine guns.  To this day, for all the intra-service rivalry that existed between aviators and ship guys, I have to admit fighter pilots are pretty badass.
An Appalachian mountain man is not without badassity.  But it can't beat the death defying flyboys and their ability to inflict death from above.
(14) North Dakota State Bisons over the (3) Kansas Jayhawks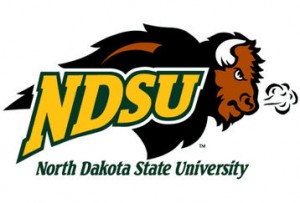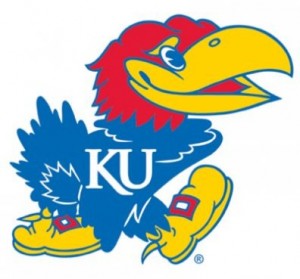 At least it's not a songbird, but the jayhawk just can't match the badassity of a lumbering, scowling bison.  These ain't no cows – they're ill tempered, angry beasts who were known to punish tourists for being dumb enough to ignore the "don't get out of your car" warnings in Custer State Park when I was growing up in the other, warmer, and better Dakota.  They're stubborn and unyielding, definitely badass traits.
(10) USC Trojans over the (7) Boston College Eagles
A few months ago I decided to read Homer's Iliad and Odyssey.  I'm glad I did, because while I would have picked the Trojans in this matchup anyway, I now know just how definitively badass they were.  Not badass enough to not fall for that stupid horse trick, but the idea that the Hector who single handedly smote so many Greeks while Achilles was pouting on his ship is less badass than your run-of-the-mill eagle mascot is laughable.
(2) Michigan State Spartans over the (15) Robert Morris Colonials
Even assuming "Colonials" refer to the warriors of the American Revolution, the Spartans take the badass cake.  If 300 of them could hold off that many Persians, taking down a few New World settlers, even with muskets, should be easy.  The warrior culture the ancient Greeks were steeped in is pure, distilled badass.  All props go to the guys who risked their lives and sacred honor to midwife the United States of America, but in this matchup they're going to fall short.
I do have to say, though, that the resemblance of Robert Morris' logo to a label on a bottle of beer gives them a lot of points.  Still not quite enough for the win, but enough for me to raise a mug to these stalwart citizen warriors.
West
(1) Connecticut Huskies over the (16) Chattanooga Mocs
Huskies are a fairly middle-of-the road mascot.  As household pets go, they're pretty badass – running medicine to Nome over the frozen wastes is worthy of significant badass points.  But this match isn't so much won by them as it is lost by one of the worst mascots in the field.
Apparently originating from the name of a bend in the Tennessee River, the team was initially called the Moccasins.  The adopted a water moccasin to represent the team, which is pretty badass.  And then they decided to forgo the snake in favor of…  a shoe.  Yup.  They were represented by dancing footwear.  And not even badass footwear like a combat boot.  The only way for this mascot to be weaker was if it was a flip flop.
Later, they shortened the name and picked a mocking bird to represent the team.  It's a step up, but barely.  Putting the bird in a train is a nice attempt at a distraction from the negative badassity of the nickname, but it's just not enough.
(8) Brigham Young University Cougars over the (9) Texas A&M Aggies
This is a rematch from last year – same seeds and everything.  Back then I said:
The "A&M" refers to "Agriculture and Mechanical", the original focus of the college when it opened in 1876. They could have picked "the Fightin' Mechanics," but instead chose to go with the farm half for their mascot. It's too bad, because as a whole, A&M is a very badass school, what with their Texas traditions and military culture. Their mascot is far and away the least badass thing about the university. Alas, that's all that matters in this bracket.

Despite the limited appeal or creativity of the cougar, it still is far more badass than a farmer.
With the additional weight of stare decisis behind it, I'll stand behind this logic now.
(5) Purdue Boilermakers over the (12) Northern Iowa Panthers
Chattanooga needs to take a lesson from Purdue.  Boilermakers refers, of course, to the metal workers who forged these great cauldrons of iron, which are badass in and of themselves.  But then they toss in the additional badassity of the charging locomotive, driving right towards you.  No bird.  No shoe.  Not even a snake.  Just the toughness of thousands of tons of iron, nurtured in the manliness infused in every rivet by its creators.
Panthers are pretty cool, but just don't stand a chance here.
(4) Washington Huskies over the (13) Mississippi State Bulldogs
This is a lucky bracket for sled dogs.  In a rare apples to apples comparison, the bulldog just can't hold a candle to a husky.
Bulldogs always seem kind of badass on first glance, mostly owing to their permanent scowls and snarls.  But upon closer inspection, they're stubby legged, goofy-lookin' critters.  Their reputation is of stubborn determination, but in application, could a team of bulldogs run the Iditarod?  Cementing this choice is the lopsided, wrinkly, sad-not-mad looking bulldog Mississippi State chooses to represent itself.
(11) Utah State Aggies over the (6) Marquette Golden Eagles
This was a close call, with the edge coming from the badassity of the logo and the actual mascot used.  "Aggies," like the nickname of Texas A&M, refers to the school's agricultural program.  But unlike the Lone Star version, Utah State very early on wrapped that nickname in a big blue bull – originally the real thing until it damaged the court floor with its hooves.  Couple that with the choice of the golden eagle instead of the more badass bald eagle, and the rather un-intimidating logo they chose, the Aggies eek out the victory.
(3) Missouri Tigers over the (14) Cornell Big Red
Of all the cats represented in the mascot pool, tigers are by far the most badass.  They're the biggest, they're prone to be maneaters, and there's something about those stripes…
The "Big Red", on the other hand, is a color.  If ever a color could be badass, red would be it, but no color by itself can truly be badass.  Cornell has helped itself by using a bear to supplement, but even then I think a tiger takes on the bear.  Especially the semi-cuddly looking, needle-clawed cartoon they have as their official logo.
Sadly, Cornell has also lost badass points in the last year through the unfortunate association with NBC's The Office's character Andy Bernard.
(7) California Golden Bears over the (10) Maryland Terps
Another bear fares much better than Cornell in this matchup, but it's much less about the bear than it is about the losing mascot – a turtle.  The 5 inch long diamondback terrapin, to be precise, Maryland's official state reptile.
A warty, nasty, two foot wide snapping turtle might be something – maybe even a big sea turtle.  But this little guy?  No shot at all next to a big golden bear.
(2) Memphis Tigers over the (15) Cal State Northridge Matadors
Last year, the San Diego Toreros, a very similar mascot to the Matadors, beat out a couple of dogs – first a husky, and then a bulldog.  I couldn't help but to picture the bullfighter in one of those old Roman arenas, where such things are still practiced two thousand years later.  The image blends seamlessly with a gladiator in the Colosseum, where one must think the tiger has the upper hand.
Couple that with the silliness of a matador's costume and weird hat ("M-I-C!  K-E-Y!…"), and the Tiger's greater relative badassity is assured.
East
(16) ETSU Buccaneers over the (1) Pittsburgh Panthers
In the mascot bracket, hope always springs eternal for the elusive 16-1 upset.  ETSU is aided by the badassity of their pirate mascot, which I think speaks for itself over the small jungle cat.  ETSU is lucky, though – had their logo included a less menacing looking privateer, the fanged, pit bull-esque Pittsburgh cat might very well have come out on top.
(9) Tennessee Volunteers over the (8) Oklahoma State Cowboys
This was a very difficult decision.  Both mascots are badass in their own way.  Both are badass symbols of a wilder and tougher American past.
But while the cowboy deals more in intemperate bovines than blasting away with his six-shooters at high noon, the Volunteer is donating his time, efforts, skills, and too often his life for his family, his freedom, and his young nation.  That's badassity you can stand up and salute in the morning, and it's enough to give the Vols the win.
Now I have to say that the cute dog on their logo doesn't help.  But then, neither does this goofy looking bowlegged cowboy.  I'm still going Tennessee on this one.
(5) Florida State Seminoles over the (12) Wisconsin Badgers
The Seminoles have a noble mascot history that I admire a great deal.  The NCAA sanctions schools with Indian mascots, and won't allow the imagery to be used in post season play.  It was offensive, you see, to everyone except the Seminoles.  (Now that we're all sufficiently sensitive, let's get drunk tomorrow to celebrate St. Patty's day and watch the Fighting Irish play in the NIT!)
FSU was affected by this, in spite of the actual Seminole tribe indicating they didn't have any problem with it.  The school threatened to sue, but the NCAA granted them a waiver instead.  The tribe did have some concerns back in the '70s, but instead of wallowing in their victimhood, they decided to turn it into an opportunity to portray their tribe, traditions, and heritage in a much more positive light.  The NCAA, while noting that they were disappointed those Indians didn't appreciate just how offended they should be, relented.  From a story about the brouhaha in USA Today:
The Executive Committee, which unveiled restrictions on such symbols this month, "continues to believe the stereotyping of Native Americans is wrong," senior vice president Bernard Franklin said in a statement. "However, in its review of the particular circumstances regarding Florida State, the staff review committee noted the unique relationship between the university and the Seminole Tribe of Florida as a significant factor."

The tribe officially sanctions FSU's use of Seminoles as a nickname and Chief Osceola as a mascot. Max Osceola, the chief and general council president of the Seminole Tribe of Florida, said Tuesday that it was an "honor" to be associated with FSU.
I love that the actual tribal chief shares a name with the school mascot.  It makes it hard to call it a stereotype, much less a negative one.
I'm not without my own sensitivities.  I think the Washington Redskins is an awfully offensive nickname.  But just because one mascot somewhere is racist doesn't mean anything that has anything to do with native cultures is.
This stand by FSU in the face of the pressure of political correctness in academia is extremely brave, and tremendously badass.  Good for them.  And for being successful and productive players in the modern world while still protecting the honor of their past and their heritage, the Seminoles have my sincere admiration and respect.
On the way, way, way, way other end of the badass spectrum is the lowly badger.  As far as small forest critters go, one has to admit that the badger is a badass one.  They're mean, tough, and tenacious.
I mean, they're working with what they've got.  But then those silly cheeseheads went and and dressed him up in a polyester turtleneck sweater from a 1970s ski movie.  Really?  You know it's bad when Gophers can make fun of you with reckless abandon.
(13) Portland State Vikings over the (4) Xavier Musketeers
As I've noted before, Vikings represent my cultural heritage, and it's a badass one.  Although this particular icon looks more like a horned motorcycle helmet made out of taffy…
Still, the inherent badassity of the Nordic raiders easily triumphs over the flamboyant Frenchman D'Artagnan of the Three Musketeers.  Now, there is a secret reservoir of badassity in Xavier's nickname – D'Artagnan was first played for the silver screen by silent film actor Orrin Johnson in 1916.  Really!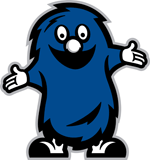 But any badass points coming from that (sort of) personal connection are lost and then lost again by their inexplicable use of this secondary mascot, The Blue Blob.  I'm sure the kids love him.  But Badass?  Not a chance.
(6) UCLA Bruins over the (11) VCU Rams
This was a very difficult decision.  I think a big bear would win in a fight over a male sheep, but as I said above, that's not the end all, be all of badassity.  There is something very cool about those huge, curled horns aimed at an enemy and charging up against them.
At the end of the day, though, it's still just a sheep.  The name "bruin" adds a little more badassity to an otherwise badass animal.  And I like that the UCLA logo is smiling, like he's not just going to maul and eat you, but that he's going to enjoy it.
(14) American University Eagles over the (3) Vilanova Wildcats
Ugh – talk about the clash of the boring mascots!  This is a replay of a similar matchup last year between Marquette and Kentucky, where I argued that while the cat usually gets the bird, this big bird is more badass than the smaller cat, wild though it may be.  And unlike that Golden Eagle, American has the additional badass factor of employing the USA's national symbol.
(7) Texas Longhorns over the (10) Minnesota Golden Gophers
Oh, how does this break my heart!  To any reading who have until now been offended by my disrespect for their school's beloved anthropomorphic symbols, let it be known that Minnesota is my own alma mater, and there is no defense of Goldy's badassity in any way.
A longhorn is just a cow, but it's a cow with big, mean lookin' horns and a firebreathing disposition.  We admire the cattlemen of old who drove them across the plain because their bovine charges could turn on them and kill them if they weren't paying attention.
But the lowly Gopher?  You'd think a school as big and as well established as Minnesota would be able to do better than this.  But no – we're stuck with a burrowing rodent which actually looks more like a chipmunk.  To make it worse, while they buffed him up a bit, Goldy is a grinning, happy, and decidedly un-menacing mascot.  I'd be totally comfortable trusting him to feed my fish while I was on vacation, but that has nothing to do with badassery.  He's not even very badass for a gopher – in a head to head battle, that little troublemaker from Caddyshack would open a can all over the maroon and gold.
Sigh.
Oh, well.  I'm still damn glad they made the tourney at all, and I'll be rooting for them all the way!  Woo hoo!  And maybe next year they can play the Buckeyes, and then go on to battle a cardinal or a hilltopper or a color or something.
(2) Duke Blue Devils over the (15) Binghamton Bearcats
As I've explained before, the legions of Hades generally trump any earthly beast in terms of badassity, and the Duke Blue Devils are usually the only thing that keeps this bracket from being totally wiped out by the Sweet Sixteen.  But this is a pretty close call.
The "bearcat" is ripped off from Cincinatti, where they once had a football player named Behr.  Binghamton hasn't been around all that long, and had to do better than their original mascot, a donkey named Harpo.  I have to admire what they've created with their logo, which is far more badass than what I can only guess to be a close cousin, Manbearpig.  Still, for a made up, pirated mascot, I have to give the win to Duke.
South
(16) Radford Highlanders over the (1) North Carolina Tarheels
The term "Tar Heel", according to Wikipedia, references the centuries old NC industry of tar and pitch productions, mostly for sealing the hulls of wooden ships. The word became a pejorative in the vein of "white trash" until the North Carolinians decided to "take it back." And good for them. But badass? I think not.  The ram tossed in there to provide a more savory physical manifestation of the school than an oily, sticky shipyard worker, but it's still not enough to take on the warrior Scots who brought us bagpipes, hagis, scotch, and movies about beheading your enemies over centuries of combat for a final prize of immortality.
(8) LSU Tigers over the (9) Butler Bulldogs
Tigers and bulldogs have been discussed at length in previous pairings, and the decision is bolstered even more by a similar Memphis-Mississippi State second round game last year.  LSU takes this easily.
(5) Illinois Fighting Illini over the (12) Western Kentucky Hilltoppers
The Fighting Illini continues to be the nickname of Illinois, but their mascot Chief Illiniwek was officially retired two years ago.  Personally, I think warrior tribes are badass, but fortunately, one needs go no deeper to determine the relative badassity here because their opponents are "Hilltoppers."  This is what I said last year:
The term refers to the fact that the university sits on top of a hill, as if nothing else in the state of Kentucky does that. Ooooh! If it were a Mountaintopper, that might be something. But there's nothing badass about walking up a hill and accomplishing nothing more than merely getting to the top of it.

To make it worse for Western Kentucky, the dancing costume that represents them is… Well, no one is quite sure. An "amorphous red furry blob" is the best descriptor I've come across. It looks like a dancing scarlet Grimace waving around a red towel. If there's an Absolute Zero on the Badass Scale, this is it.  The Urban Dictionary's version of a Hilltopper is more badass than this.
Even a gopher is more badass than this.  Hell, I think even a buckeye is more badass than this thing.  Illinois takes it in a badassalanche.
(4) Gonzaga Bulldogs over the (13) Akron Zips
Last year was a lucky year for bulldogs in terms of getting matched up against much less badass mascots, but this year not so much.  The one bright spot for the pugnacious pooches is Gonzaga, who is paired up against what immediately sounds like something very offensive but winds up actually being a kangaroo.
Now, I see what they were going for with the kangaroo.  They're actually pretty tough animals.  They're big, fast, and can do some real damage.  But even though I wouldn't want to tangle with one in the wild, there's just no real badassity about it or its image.  The snarling, mean looking Zag's bulldog (the best rendered of all the bulldog mascots by far) takes this one.
(6) Arizona State Sun Devils over the (11) Temple University Owls
Another demonic manifestation, but this one comes from the nuclear furnace that is our sun.  The mascot itself loses a lot of badass points for looking like Jon Lovitz in an old SNL skit, but against an owl, there's no contest.
Owls are not without their badassity, but they're pretty low on the badass bird of prey ladder.  If Arizona State were represented by field mice, it might be a different deal, but they aren't so Temple can't survive this one.
(14) Stephen F. Austin Lumberjacks over the (3) Syracuse Orange
Lumberjacks are pretty badass, unless they're in a Monty Python skit.  Even in the modern day where they have earth moving size machinery, the History Channel doesn't make a TV series about a non-badass profession.
But none of that matters when up against another color.  This time, it's orange.  It doesn't have anything to do with the fruit, just the color.  This already below-sea-level badassity took another blow in 2004, when the school declared henceforth that the previously used "Orangemen" and "Orangewomen" were too divisive and offensive because they made reference to gender, so they were only to be called "The Orange."  I will merely call them losers of this game of badassity.
(10) Michigan Wolverines over the (7) Clemson Tigers

I went back and forth on this one.  There's no question that a tiger would rip a wolverine apart.  But that's not the whole question.
First of all, tigers are pretty overexposed in this year's tournament.  And of all the tiger mascots, this official logo is the weakest.
Wolverines, on the other hand, are tough little SOBs – tough and mean.  They've been hunted by Napolean Dynamite with a frickin' 12 gauge for attacking his cousin (what the heck would you have done in a situation like that?), and they helped win the Cold War when things got hot (with a little help from Patrick Swayze).  I'd say that's pretty badass, and I'm giving Michigan this one in a squeaker.
(15) Morgan State Bears over the (2) Oklahoma Sooners
Finally, we end the first round with another bear victory.  Last year, I said this about the Sooners:
[W]hile you can admire the grit and determination of the people who tried to claim their plots of land in Oklahoma "sooner" than was allowed by federal law, it's hard to think of these squatters as badass in any real way. They weren't racing their wagons fair 'n' square to get there a la Tom Cruise and Nicole Kidman in Far and Away, they snuck over a few days earlier in the middle of the night. Again, I think some nobility is an important component of being badass.
Besides, if a bear can rip apart a minivan, as all the insurance commercials assure us they can, it'll make short work of a covered wagon.
~~~
So there it is.  Tune in next time for the second round picks!