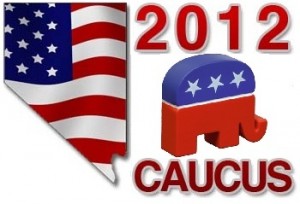 Four years ago, I attended (and wrote about) my first caucus at Galena High School.  In spite of the chaos that marked most of the precinct meetings that year, I had a lot of fun.  Indeed – the reasons my precinct was successful that year when most of the others were a mess is that we had advantages that most other folks didn't.  We had our own room (a large auditorium), and we had several people who had volunteered to help set things up, which means we had folks who knew what they were doing.
When Dave Buell asked me to chair the county caucus effort this time (after he fed me enough beers to say yes), we hoped to replicate that to the extent we could to ensure that more people a) knew what they were doing, and b) had the space to do it.  To that extent, I think we were largely successful.  It wasn't perfect, but it was a definite improvement over 2008.
This time we had 15 different locations county-wide instead of just four, and we spread ourselves throughout our schools to give each individual precinct more space to actually talk to each other.  We held training sessions twice a week for the entire month of January.  And we had a much improved website that allowed us to pre-register people, get their contact information, sign up new volunteers, and post some of the rules and procedures of the caucus itself.
Damonte Ranch High School
On caucus day, I ran the Damonte Ranch High School location.  The custodial staff at the school had been fantastic during the planning phase, and the day of they were simply amazing.  They helped us get everything set up much earlier than I anticipated.  Loads of caucus-goers had volunteered to come help, and they finished setting everything up incredibly quickly.
DRHS was hosting a drama festival at the same time, which denied us the use of the theaters for the bigger precincts.  The lower-than-hoped-for turnout made that a non-issue, and the drama kids were fun, exuberant, friendly, and helpful.  As a former drama geek, I was proud of them, especially knowing that high school drama programs aren't exactly hotbeds of budding Young Republicans.
The registration process was between 9 and 10, and most people came early.  Unlike four years ago, we were ready for them, and the lines moved quickly and smoothly.  We had separate lines for folks who pre-registered those who didn't, and I had my first indication that turnout was going to be disappointing when the non-pre-registered line stayed very sparse.  Each person got their ballot upon check-in, and we had piles of maps and several traffic-directing volunteers to get people to their meetings on time.
(In some of the reports I've read from Clark County, they didn't hand out ballots until the meetings had gotten underway, but didn't bother to tell anyone that was the plan.  Apparently, people filled out makeshift paper ballots and then left before a volunteer could make it with the official ballots.  How many people's votes didn't count?  Since the official turnout numbers were based on valid ballots cast, how much less bad would the turnout stats have been?  It truly boggles the mind.)
At about 10:00, I was trying to get my volunteers to their own precinct meetings.  There were about a dozen folks at the non-pre-registered check-in tables, and only a few people still checking in.  I asked them to go, leaving one or two folks behind if they could, and then went to go check on something else.  Five minutes later, not one of them had left.  They told me that no one wanted to be the first to bail on everyone else.  Man, I'm proud to be in a party populated with such people.
As the site coordinator, I didn't have time to do anything more than poke my head into my own precinct, answer a few questions, and cast my ballot.  Instead, I wandered around the school trying to visit as many of the precinct meetings as I could (33 precincts were assigned to Damonte), answering questions and asking for feedback, which other than hating the fact that we had to have a caucus in the first place, was very positive.
I came upon one meeting as they were collecting each other's e-mail addresses so they could have a BBQ and keep their precinct organization going.  That was great to see.  While caucuses are less inclusive than primaries, and while I'd go to a primary in a heartbeat if I could, it's incredibly exciting to see this kind of grass roots, neighborhood activism of a kind that used to be far, far more common in our nation's history.
We gave people the option of just voting and leaving as soon as the chair was elected in the meeting (state law ties the Presidential preference vote to the precinct meetings).  But relatively few people did that, at least as far as I could tell.  Most folks stuck around to hear the debate, get themselves involved in the party, and to get to know their neighbors better.  It was great.
Most of the precincts were done in an hour or less.  None took more than two, which is a far cry from my experience in 2008.
The one big problem we experienced was people who thought that since we'd told them to expect the meeting to last between 10:00 and 12:00, that they could roll in at 11:45 and cast a ballot.  There was definitely some ambiguity in the confirmation E-mails people received when they pre-registered, but most of the time when I see a meeting scheduled from, say, 10:00 to 12:00, I show up at the beginning part.  Fortunately, the vast, vast majority of caucus-goers understood that as well.
The Counting
The individual ballots had already been counted and announced in the individual precinct, and then placed in a sealed envelope with the tallies written on the outside.  While still at the school, I had collected them and called in an initial count to party headquarters in case I died in a fiery crash with the ballots in my trunk.  Observers from the Romney, Paul, and Gingrich campaigns stuck around to watch me do it, and as far as I know, they had no complaints about the transparency of the process.
I got back to GOP Headquarters with my ballots, sealed up in a box, per our procedures.  We soon got to counting, which commenced about 2:00.  Observers from all four campaigns were in the room to watch the official count.  Our counters included supporters of Paul and Gingrich at least – Paul's supporters were definitely over-represented in the room.  We never had more than three teams of two counters, and for most of the count we only had two teams of two – the observers complained they couldn't keep track of it if we had more than that.
The counting room was actually a lot of fun.  There was some healthy trash talk amongst the campaign observers, but it was generally good natured.  Disputes about what to count and what not to count were quickly resolved, and no one accused anyone of pulling any deliberate shenanigans.  Party unity was beginning to form even there, and it was a relief to see.
As a result of the small number of counters, we took a little longer than we'd hoped to get our numbers out the door to the state party, but only by a couple of hours.  We had been told we must fax actual copies of signed tally sheets from each precinct to the State Party before they would be official – a waste of time and energy that excessive paranoia will cause if you let it.  When our fax machine blew, the state party suddenly realized the value of E-mail and Excel, although they still had problems with that initially.
While we were disappointed in the turnout, we were incredibly happy that things had gone so smoothly county-wide.  There was no chaos.  There were no lines out the door in the cold.  There were plenty of ballots and plenty of space for the precincts to meet.  Everyone I spoke with said they were much, much happier with the organization and execution this time around.
After a couple of beers to celebrate I went home feeling tired and happy.  I turned on my TV and computer to track the rest of the count statewide, and that's when I watched in horror and anger as the buffoonery in Clark County, from their "special" caucus to their inability to count ballots any faster than it might take a bumblebee to fly across the Andromeda Galaxy, became THE story of Nevada's caucus.
~~~
It's annoying to watch the national and even state coverage of the problems in the Clark County caucuses get attributed to the state as a whole.  It didn't have to be that way.  But that's what happens when legitimate concern about voter fraud turns into full blown paranoia.  And it's also what happens when insurgent groups "take over" and established party structure, and like a dog chasing a car, don't stop to consider what they're supposed to do when they find themselves having actually met their goal.
At least in Washoe, and in every other county from what I've heard, things went well.  We still have a lot of issues to work out and a lot of work to do, but it's nice to see strong, effective party leadership in my home county.  Let's hope that can spread to Clark, and we can start regaining some of the credibility that the Nevada GOP has been hemorrhaging since October.
Up next – Accusations of Fraud?