You have to give credit to the folks who picked Peterbilt Truck Parts and Equipment for Paul Ryan's visit to Sparks this morning.  Is there a better setting to perfectly embody the GOP image combination of "economy," "manliness," "you built that small business," and "America"?
I was told that originally, the rally was supposed to be held inside – certainly there was a large space.
But so many tickets were distributed (the event was free, but ticketed in order to collect contact info) that they needed more space, and moved it outside.  The RGJ's Ray Hagar told me that the official police estimate was about 2,000 people – not bad for two days notice.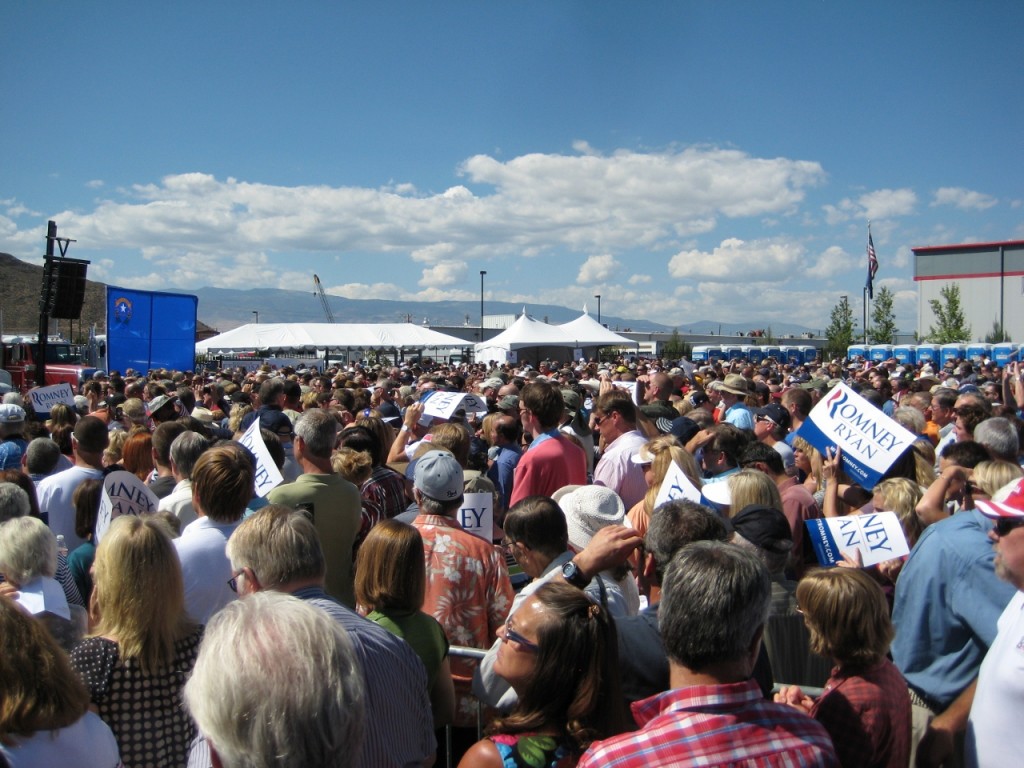 Congressman Mark Amodei emceed the event, which is always a lot of fun.  Most political speeches have a predictable and cautious cadence to them – I think it comes from people who don't do a lot of public speaking trying to sound like they think a politician should sound.  Mark, on the other hand, just sounds like Mark talking about the issues, and it's great.  He's funny as hell with a fast, sharp wit, and always sounds like he's talking to you instead of at you, even in a crowd.
My friends Dave Espinosa and Greg Brower spoke too, which is fantastic from a GOP team building standpoint.  I hadn't thought about it before, but I went to two Sarah Palin rallies in 2008, and I don't recall any local elected official speaking at all, which was consistent with broader lack of cooperation (including data sharing) between the McCain campaign and our local party organizations.  In spite of the problems the State party has had, I sincerely hope Team Nevada leaves us with voter/donor/volunteer data when they leave after the election.  If nothing else, it will be a powerful motivator to get and keep our state Republican elected officials engaged and involved with the party structure (raw voter info is available to anyone, but the number crunching the Romney campaign is doing is incredibly valuable to Republicans up and down ballots for years to come).  That involvement is necessary to healing our state party.
Ryan finally came, riding up in the Romney bus.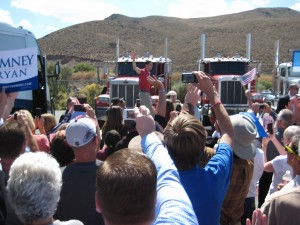 His speech was pretty standard Ryan – a great mix of philosophy, wonkishness, and long term pragmatism.  He'd done his homework, and knew how many people Peterbilt employed at this location, along with details of their tax status.  He then applied those specifics to show why Obama administration policies were harmful to that business and the economy as a whole.  It's THIS level of attention to detail and ability to see both the forest and the trees at the same time that makes me admire Ryan so much.
Ryan said one more thing worth reflecting on here, in light of the Democrats' God-booing at the DNC convention.
People may not know that the "God" reference in their platform wasn't exactly religious, and hardly hinted at theocracy.  The only mention of God that remained long enough to be put back in the Democrats' platform was a line about people being able to "make the most of their God-given potential."  That THIS should be so controversial, and should drive so many people to anger is bad enough, but that's merely pathetic and un-serious.  What's worse is the total divorce from our most basic, founding philosophy – our First Principle, if you will.  And let's be honest – the only reason it was put back in was as a Damage Control Pander.
Ryan picked up on this, although he's talked about it before.  He made sure to mention that we as Republicans understand that our rights – including our rights to pursue property and exercise our personal liberty, economic and otherwise – came from "nature and from God."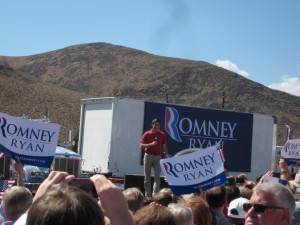 You don't have to be particularly religious to believe this – I certainly am not.  But if you don't, the only alternative is that our "rights" are really just privileges handed out by government rulers, and individual humans have no particular inherent individual worth.  And the thing about privileges is that they can be revoked at any time, and for any reason.  In other words, we would just "belong to government" instead of the other way around.  If you don't understand the catastrophic consequences that come when this basic, foundational keystone in the American philosophical experience is removed, well, let's just say things really CAN get worse than the Obama economy.
The speech was brief, which was good, because it was hot and I stupidly wore neither hat nor sunscreen.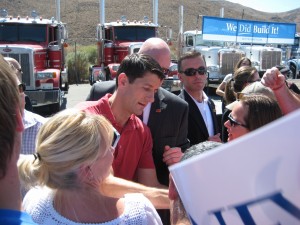 My biggest disappointment was that I didn't get a "grip 'n' grin" picture with the (I wanna say future veep but don't want to jinx it) Congressman, but whaddyagonnado. I need to start sucking up to the county party chair or something.
Bottom line – the speech was good, but the event was better.  It was well planned and well executed on short notice.  The turnout was amazing.  The themes were all about solutions and responsibility, not an endless stream of nothing but empty partisan red meat and gratuitous insults to the other side.  (There was a little red meat, but elections aren't won on bread alone!)  This is a party I'm proud to be a part of, and a Presidential ticket I'm proud to support.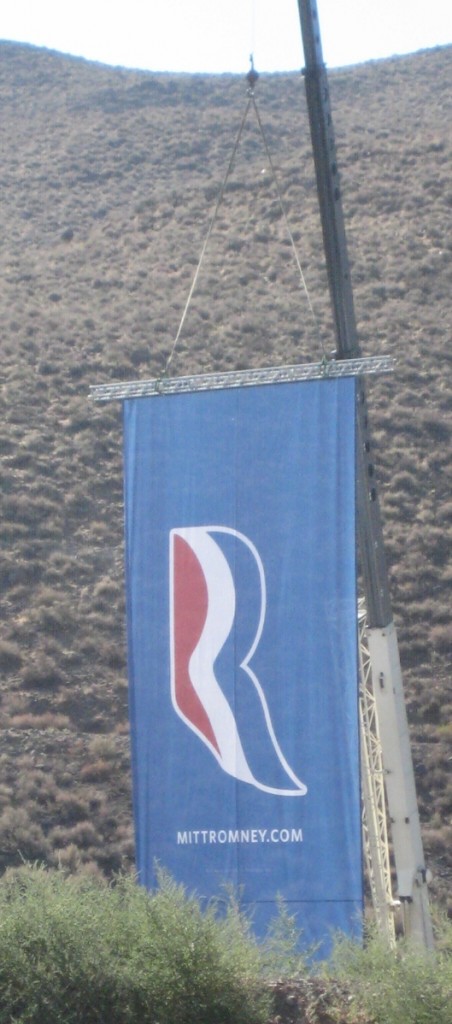 (I spent some time during the rally talking with Steve Ause – for more good stuff, including some extra-handsome and humble punditry, tune into his show on 99.1 this weekend at 8:00 PM.)