We're underway, and the creme is starting to rise to the top of the chaffe, or something.  Let's find out just how badass these mascots can be in the third round!
Midwest
The (16) Liberty Flames over the (9) Missouri Tigers

My cat used to be extraordinarily obese (yay for the miracle of modern robots who will carefully regulate her diet without her being able to blame me!).  When we'd try to get her to exercise, she's open her mouth and bare her teeth, but there was no real vigor in it, and certainly precious little badassity.
Missouri's mascot is in better shape, but that image and look on its face always reminds me of that chubby, apartment-bound kitty.  It's certainly no match for the burning desire for freedom represented by Liberty's burning bird.
The (5) Oklahoma State Cowboys over the (4) St. Louis Billikins

There is a definite type of badassity that comes from having seen so many horrors in your life, that you're immune from the impact of any new ones.  The Oklahoma State cowboy looks like his soul burned out long ago, making him immune from the Billikin's only real weapon – freaking everyone the hell out.
The (11) Middle Tennessee Blue Raiders over the (3) Michigan State Spartans

I haven't yet touched on Middle Tennesee's actual nickname – the "Blue Raiders."  It's a story of "It could have been much, much worse."
In the early days of athletics at Middle Tennessee State University, the teams were known by several nicknames. Among these were Teachers, Normalites, and Pedagogues.  In 1934, it was decided that the school needed a specific nickname.

During football season that year, the Murfreesboro Daily News Journal held a contest to name the team.  The late Charles Sarver, then a Middle Tennessee football player and later principal at White County High School in Sparta, Tenn., won the $5 prize for his entry of "Blue Raiders."
The Pedagogues?  The Normalites?!?!  Eesh.  Good on them for taking a step forward.  They then rejected a "costumed, cartoonlike dog" described as a "reasonable facsimile of a bluetick hound" after awhile – as well they should.  The nice thing about a name that doesn't really mean much is that the world of potential mascots is your oyster.  Go big!  And they did.
The badassity of the Spartans needs little embellishment, but by choosing an old school Pegasus (not some cartoonish My Little Pony crap or something) to represent them, Middle Tennessee has what it takes to defeat them.  Spartans may have been unparallelled as infantry troops, but against a supernatural airborne mounted cavalry that had ranged electrical weapons at its disposal?
The (2) Duke Blue Devils over the (10) Cincinnati Bearcats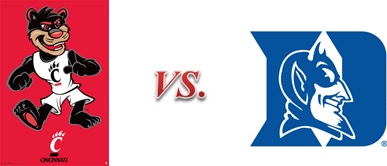 You'd think combining a bear and a cat would really amplify the badassity of a mascot.  In this case, though, Cincinnati somehow achieved the opposite – I believe they call that "destructive interference" in hydrodynamics.  You could at least give him some pointy teeth or something.
West
The (8) Pittsburgh Panthers over the (1) Gonzaga Bulldogs

Dog beats cat is the baseline assumption, but that's only a start.  Here, that snarling, fanged demon cat is too much even for the most badass bulldog in the tourney.  There's a lot of soul-haunting going on this year.
The (13) Boise State Broncos over the (5) Wisconsin Badgers

Polyester clad petulance in a ground dweller just can't overcome the raging charge of this crazy-eyed bronco.
The (11) Belmont Bruins over the (3) New Mexico Lobos

Here at First Principles, we don't limit our opinions to just looking at mascots and logos.  We have an extensive field research division.  Fortunately, bears and wolves meet up from time to time in the wild, and so we don't have to speculate – let's let Nature teach us about badassity!
One bear, lots o' wolves.  Look at 'em scatter.
The (10) Iowa State Cyclones over the (15) Iona Gaels

The are some great opportunity for puns here, but everyone knows they're the lowest form of humor, so we'll just go with the linguistic origin of Iona's nickname again.  The power to wipe entire farming towns off the map is vastly superior to the power to speak Gaelic and wave a wooden cane around.  Not even the lame inclusion of that bird can save Iona here.
East
The (8) North Carolina State Wolfpack over the (16) LIU (Brooklyn) Blackbirds

Blackbirds are smart, but so is a wolfpack.  The most LIU could hope to do would be to scavenge off the kill of the Pack after they were done with it, bringing this little avian's Cinderella story to an end.
The (13) Montana Grizzlies over the (5) UNLV Runnin' Rebels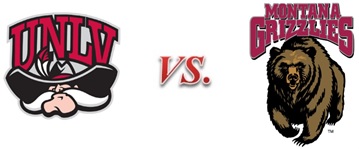 In the last round, UNLV beat another bear, but only just.  In this case, we see how logo design can make a difference the other way.  Grizzlies are nature's largest and most fearsome bear, and Montana chose to use every bit of that natural badassity to its full advantage.  There's nothing old or tired about this guy, and that mustache will wind up being served with some salmon sashimi before the day is done…
The (11) Bucknell Bison over the (14) Davidson Wildcats

There's no actual dispute about this at this point, right?  Sometimes badassitae ipsa loquitur.
The (2) Miami Hurricanes over the (10) Colorado Buffaloes

Colorado's Buffalo is badass because it's a buffalo, but this logo design could use some sprucing up.  But it's still in significant contention, especially with that Ibis Miami is using to represent its nominally badass nickname.  I feel like a good way to look at this is to compare the relative damage each one could bring down upon a swath of land.
It's hard to out-badass the fury of the entire atmosphere.
South
The (8) North Carolina Tarheels over the (1) Kansas Jayhawks

Kansas was more than lucky to get this far, but it was only a matter of time before a reasonably competent mascot came and ended this goofy bird's tournament.
The (4) Michigan Wolverines over the (12) Akron Zips

A too-little appreciate method of determining badassity is the battle against true evil, like Nazism or Communism.  So let's just take a look at their respective records on that…
Wolverines, baby.  Shockingly, I could find no example of where Kangaroos – with or without an uncomfortably-close-to-racist-sounding name – had similar success, even as a mere nickname/mascot.  Can you imagine a group of freedom fighters yelling, "KANGAROOS!!!!"?  Or worse, "ZIIIIIIPS!!!!"?
The (3) Florida Gators over the (6) UCLA Bruins

Part of the badassity of a bear is it's growling, snarly power.  It loses all that when it gets all cute and cuddly.  Especially, as it was pointed out in the second round by a reader, when it sits around LA and goes all Hollywood on us.  The minute you let yourself get all soft, you lose the Badass Edge.
The (7) San Diego State University Aztecs over the (2) Georgetown Hoyas

Even without all the empire building and human sacrifice, the Aztecs win this on headgear alone.
~~~
Later tonight, tune in to see the Badassiest of them all revealed!